For Top Ten Tuesday, since this is my Disney Blog, I decided to feature 10 of my favorite Disney songs. But, rest assured, while that may seem an easy task, it really isn't. My OCD has caused me to list my Top 10 Favorite Magic Kingdom Songs...because you just can't lump all the movies, parks, parades, events & tributes together & come up with 10 that easily.
So, here goes...
My All-Time Top 10 Favorite Disney Songs...from the Magic Kingdom
10. If You Had Wings - now, I know what you are thinking. If You Had Wings was an extremely dated 1970's ride. As much as it drove me batty as a child, every time I hear it now generates a floodgate of memories. Simpler times, memories of it being my grandmother's favorite ride, a very vintage Tomorrowland, and some very blue buggies! I think the cliff diver was the scene I remember the most.
9. SpectroMagic - This is great parade music. It is also the only night parade my children know. While it is gone for the summer this year, I will be sad.
8. Everybody's Got A Laughing Place - This song makes me smile. It is a great reminder that no matter what, something makes you happy inside...and everyone has their own happy place..you just have to find it! (Betcha can't guess where my happy place is..lol)
7. Wishes - Wishes is the best collaboration of Disney's all time favorite cry-along songs. Seriously. It makes my heart smile every time we watch Wishes. The kids sing along & each has their own favorite parts. It is one of our very special Magic Kingdom moments.
6. Mickey Mouse Club Theme Song - ok, so this song can't be heard in any particular spot in the Magic Kingdom, but it most certainly SHOULD be! I remember watching the Mickey Mouse Club when it would come on. The Mouseketeers would sing the song under the Castle...I do think of that song every time we walk underneath the Castle.
5. Its A Small World After All - who doesn't like this song? Its A Small World is very special because it is one of the only rides that is really not *branded* with anything Disney. Another reason why I am glad we have the original version & not the new Disneyland character version.
4. Pirates of the Caribbean - This has become a family tradition. We skip all the way thru the ride que singing "yo ho yo ho, a pirates life for me".
3. Grim Grinning Ghosts - Happy ghosts are a good thing.
2. There's A Great Big Beautiful Tomorrow - Nostalgic & definitely a catchy tune, its more than that. It's inspiring. No matter how bad your day was, there's a great big beautiful tomorrow shining at the end of every day. And tomorrow is just a dream away.
1. Main Street Electrical Parade (aka Baroque Hoedown)
- Did you know that the theme music for this parade has an actual title? This is my ALL-TIME MOST FAVORITE. I grew up with this parade. I cried when it left. I cried when it returned. And, when the announcement was made that it was returning, I cried again! I am so excited for my children to see the parade so they can visualize it for themselves. The music has been burned into their minds thruout the years. I love this song so much that I even used it in one of my cheerleading routines (they won the state championship that year as well!)
Do you have favorite Magic Kingdom songs as well?
Will you be crying on Main Street with me this summer when Main Street Electrical Parade returns home?
Do you think I am just crazy??
Feel free to leave me some love below ;)
Well, that is my top ten this week. Please go back to
OhAmanda
& check out other
Top Ten
Greats on this Tuesday!!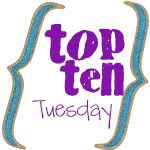 til next time ~
make it magical :)