Buzz Lightyear has been to infinity & beyond.
And then he went to Disney World.
Having a toddler who loves Buzz Lightyear, I knew for certain we had to be there. The parade was Friday, October 2nd. All week we talked about rockets & going to Disney to see Buzz. I talked my friend & her 2 yo into going as well. So, as soon as she got to my house, we loaded up both babies & were off!
We found our place on Main Street for the parade just before 2pm. The kick-off to the parade was 2:45pm, so we had plenty of time. It was so neat. a CM named "Skip" came out and gave the backstory on Buzz & his adventure (
Disney Parks Blog
covered the event.).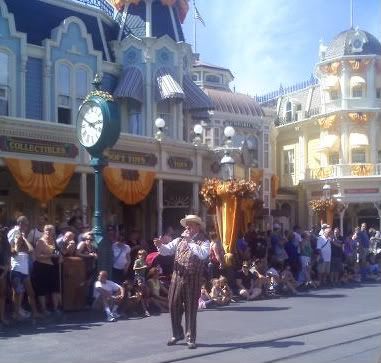 The parade started off with a dancers, dwarfs & Snow White in honor of the re-release of Snow White & the 7 Dwarfs.
First in the line-up was the Disney Marching Band.
Then Buzz Aldrin was next. I have to admit, it was neat to actually see one of the first astronauts to land on the moon.
Next was Mike Fink, dressed in his official NASA blues. As he stopped in front of us, he donned a pair of Mickey Ears.
Finally, Buzz arrived....riding on RC. Yes, it was actually the 12" toy that was in space that was in the parade. I can't tell you how excited Peanut was to see Buzz riding on RC. It definately was not what I expected...but it was cute.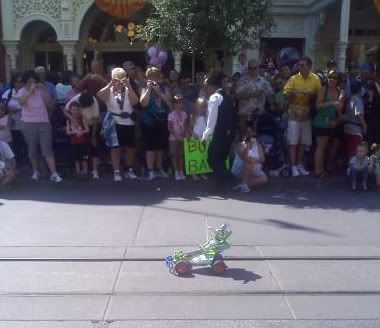 As Buzz got in front of the Main Street Emporium, the ticker-tape madness began. Confetti shot from the roofs, cameras flashed. And then Buzz continued around the circle.
I don't know why I thought that the big Buzz Lightyear character would be in the parade. Overall, it was a great experience. I had 2 very happy, satisfied toddlers that afternoon. Since we didn't have to leave for a while, we headed off to ride, what else...Buzz Lightyear!